Engineering Procurement Construction (EPC or 'Turnkey')
Overview
EPC models are a variation of the design and construct model, but are more complex and detailed. The principal engages a contractor to design, build and deliver the asset in an operational state. The principal provides a general scope to the contractor which is focussed on the functionality and performance requirements of the asset upon completion. That enables the principal to step in, at completion, and 'turn a key' to operate the asset.
EPC contracts provide the most suitable framework for projects where significant engineering expertise is required, the design is determined by functionality (rather than aesthetics), there is greater focus on performance requirements and the principal does not need to control the design. This method is generally used for large scale energy and resources developments such as power stations, process plants, other major plants, oil and gas projects, and the delivery of mining infrastructure.
Advantages/Disadvantages
See the discussion on design and construct contracting.
Engineering Procurement and Construction Management (EPCM)
Overview
This method is a variation of the project management model.
The key difference is that, unlike a project manager, the EPCM contractor carries out the detailed engineering and design function for the project and takes responsibility for procurement of major equipment. One benefit of this is that it provides seamless and continuous responsibility for engineering and design.
This model differs from the EPC model because an EPCM contractor does not:
perform construction work; or
typically take full responsibility for delivering the completed project by an overall completion date, or responsibility for the overall cost of the project.
The EPCM approach tends to suit principals who have the expertise and experience to manage the progress of the project and the size of the balance sheets, and to retain the cost and time risk of the project (rather than pay a hefty premium to put the risk on a head contractor under an EPC contract).
This model is often used for major projects in the petrochemical oil, gas, mining and power sectors.
Contractual relationships
An EPCM contractor:
administers and manages the project as the principal's agent or representative;
produces the design for the project; and
is typically responsible for breaking down the construction work into packages, managing their tender, overseeing the principal's entry into the trade contracts and managing those trade contracts on the principal's behalf.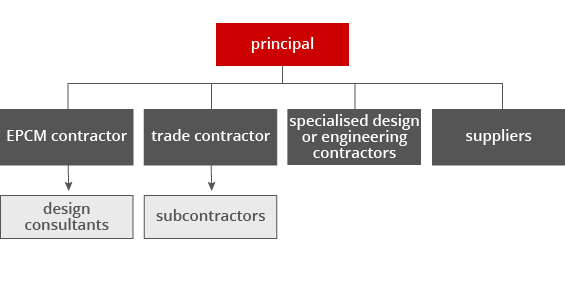 Advantages/Disadvantages
See the discussion regarding project and construction management contracts.
Standard form contracts for EPC and EPCM
There are no available Australian standard form contracts. FIDIC conditions of contract (international) are available (Silver Book 2nd Edition 2017).